Milton Keynes Festival of Running - Sunday 13th March 2022
Report by: Richard McMahon (AKA: Macca)
Distance: 10km
Location: Xscape Central Milton Keynes
Web link: mkrun.co.uk/

Event Details: The MK Festival of Running has been held for many years, and has 5k, 10k, half-marathon and 20-mile races. This event has been part of the Club calendar for many years with the Club subsidising entries on occasions. This year it was only the 10k that was included in the Club race calendar (avoiding strategic distance entry to maximise points!). Also, for the first time Club results were based on age grading rather than finish position.

Before the race: The event felt significantly less busy than previous years. There are a lot of races held in MK during the year now, so maybe the calendar is getting saturated. The race starts are staggered with the 20milers going off first, followed by the 5k and 10k races at 10-minute intervals. The morning was dry but cold with a chilly wind. Heading to the start I met up with some wonderful BDRCers and we grouped together on the start line, and as is traditional shared horror stories about Beacon Hill with the first timers!!

Who ran: Clatters, Jayne, Mary, Lolly, Louise H, Sue, Noz, Ryan and Macca. ET was there too running with Redway Runners.

The Race:
Starting on the dual carriageways, the race always feels a bit of a tarmac festival, however the main roads do give way to country roads through villages and into the parks. The course is generally fast and flat (although there was one year when one of the underpasses was flooded with water to knee depth which slowed us all down!). There is good support through the residential areas and there's one water station. Beacon Hill, 1k from the finish, is always a challenge but this time I felt stronger going up than previous years which was a bonus. There is no real chance to get your breath back as you are then on the last km home. A special mention goes to Clatters for the best sprint finish of the day!!
BDRC Results:
Mary De Frates 51:17 (4)
Sue Torrance 52:55 (1)
Louise Honeyball 53:26 (5)
Rachael Prior 54:04 (2)
Jayne Cooper 54:45 (3)
Izzy Clatworthy 58:45 (6)

Chris Noble 42:10 (1)
Ryan Paton 51:55 (3)
Richard McMahon 53:51 (2)

(Figures in brackets indicate age-graded position).

Funny Moments
Having had trouble parking outside Xscape (particularly in the cheaper bays) in previous years I got there early, only to find I was virtually the first car in the car park!! Discussing the lack of other BDRC runners taking part being because the results would be age graded and they couldn't compete with masters aged members!! (Not true, I am sure!!)

Would you recommend?
Yes, a well organised race with a mixture of fun, recreational and club runners that has variety as well as the opportunity for a fast run.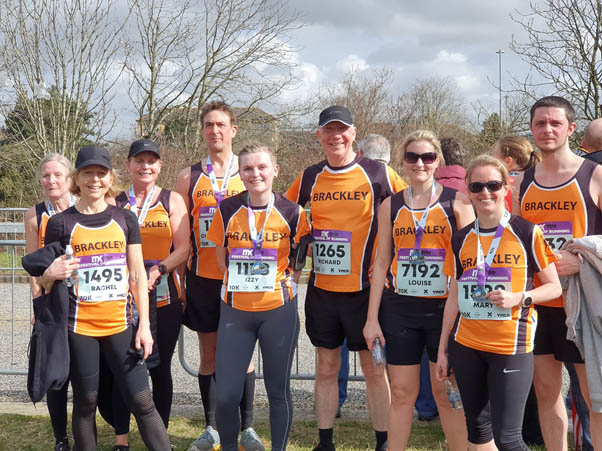 ---
Banbury 15 - Sunday 20th March 2022
Report by: Chris Noble (AKA: Noz)
Distance:15 miles
Location:Spiceball Leisure Centre & Country Park, Banbury
Web link: banburyharriers.org/banburyrun.asp

Event Details:
- HQ is at Spiceball Leisure Centre. The start is in Spiceball Park.
- It's definitely an undulating/hilly course!
- Showers available back at HQ

Before the race: I got to HQ early as usual. Lots of familiar old faces from CRJ, plus Shaun (ex BDRC) and a few others, so had a good old natter/catch up. Then noticed Heidi had arrived, so we got into race gear and went to look for other BDRC's, who we found in the Park.

Who ran: Alice Hall, Franko, Heidi, K&K1, K&K2, Noz

The Race:
The race: Start and finish is on grass for roughly 100 meters, then it's run on pavement/footpath and road. Race headed out of Banbury up the Southam Rd where we turned off the roundabout to head down Noral Way to do a 200 meter loopback. I saw K&K2 as I was turning in, which obvs means he was just exiting the loopback and disappearing quick! So back onto the Southam Rd and at mile 1 1/2 we met our first of four climbs. That first climb was still rising when going through the first village of Little Bourton, but then it flattened out going to Great Bourton, where it was a fast downhill into Cropredy. Was kind of flat for the next 2 ½ miles until the 'easiest hill' of the race going up to Claydon, then another kind of flat couple of miles before the 'KILLER' hill. Appletree hill is just nasty, but I decided to use it to get my cadence back on track and I went past a few CRJ's. It proved successful and I stay ahead of those pesky CRJ's for the rest of the race. This was important as one of them was the SiPi's wife, both of CRJ and defo didn't want to get chicked by her 🤣 Anyway, we looped on back to Banbury, going back through Cropredy, where Sue Torrence's gang appeared again and then to the long hard Great Bourton climb. Not as 'nasty' as Appletree, but as you do the couple of left turns to go to Little Bourton, it has a couple bits of real energy sapping short gradients, which at eleven miles in, is not fun. After having invoked Rule #5, it was then down the Southam Rd and back to Spiceball for a relaxed finish. Missed most BDRC's finishing coz I preferred to have a v.welcome shower in HQ, but got back to say tarragh and Alice was so impressed I waited to see her finish, she later bought some Club kit 👌🤣 Thought I deserved a beer after all that, so went to the GF Club just over the road with Phil and Geordie Dave of CRJ 😎🍺🍺 A very satisfactory day of running and socialising, thank you Banbury 15 🙂
BDRC Results:

Name / Overall Pos / Age Cat / Cat Pos /Gender Pos / Time
Keith Fox (K&K2) / 18 / MSnr / 11 / 18 / 1:40:53
Chris Noble (Noz) / 37 / MV50 / 9 / 36 / 1:50:07
Kim Fox (K&K1)/ 55 / FV35 / 3 / 6 / 1:55:47
Heidi Carruthers / FV45 / 75 / 4 / 11 / 2:03:11
Frances Edwards (Franco) /92 / FV35 / 9 / 19 / 2:10:04
Alice Hall / 138 / FSnr / 6 / 41 / 2:34:22

Funny Moments
Alice coming over to our little BDRC group before the start and looking at me as though I knew who she was. Fortunately, after getting a bit of verbal abuse, it clicked… and I even got her name correct 😁

Seeing Sue Torrence and Co. popping up to support at various places on the course.

The race adjudicator running the race… and winning it!!!

CRJ Rachel, with a mile to go, shouting out 'I'm coming to get you'! But as I had since Appletree, I stayed ahead by 20 seconds 😈

Would you recommend? Definitely, but only if you're ready for a tough course or marathon training. Always good to support a local race, organised by a local Club and that has a v.reasonable entry fee.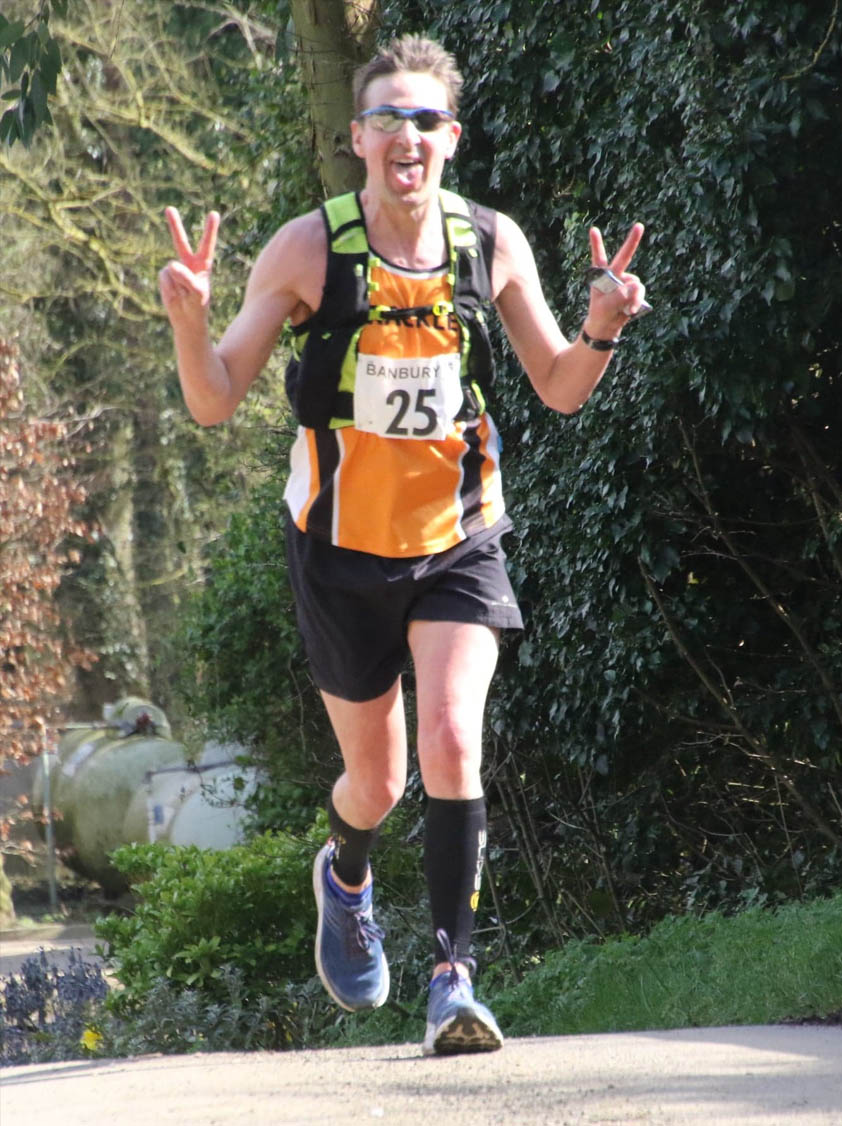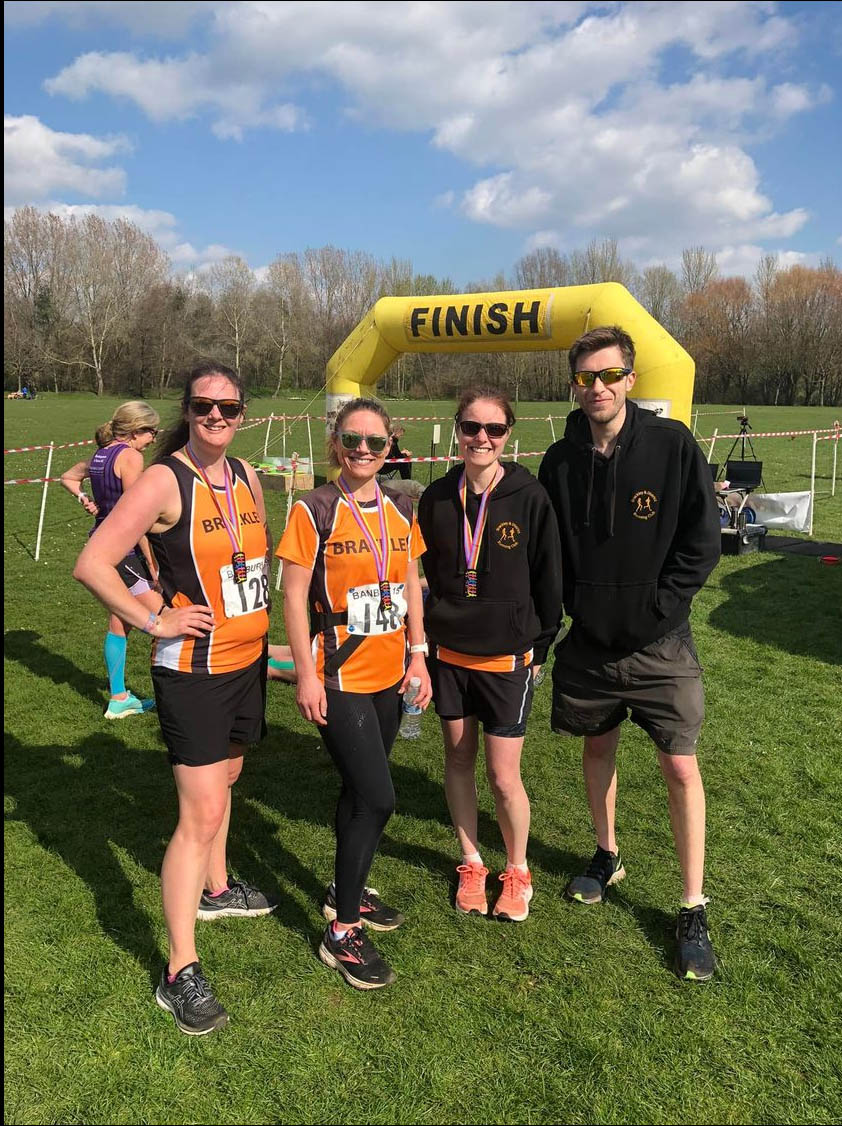 ---